Reflections on Life as a Woodland's Boarder
As we continue to reflect on our 100 Years of Education on the Law Smith grounds, the history gets particularly rich and colourful with the stories from those women who spent their school life as boarders. We are fortunate to have Woodlands old scholar, Elizabeth Andrew, share her memories and reflections as a boarder as well as some exerts from letters she sent home to her parents weekly.
Reflections on Life as a Boarder 1966-1971 'GIRLS' – Elizabeth Andrew (Drever)
The year, 2021, marked fifty years since I completed my schooling at Woodlands Church of England Girls Grammar School.
Boarders through the generations
I entered the school in 1966 as a year 7 boarder, along with 12 other girls. As a little girl I always knew that I would be going to boarding school. My mother being the youngest of nine siblings spent her entire schooling, commencing in kindergarten as a boarder at Woodlands. She always said her elderly parents thought she would be happier at school with her three older sisters, than growing up as an only child on a fruit property. Woodlands to her was more than a school – it was her childhood life.
A time of great change
The year 1966 as I now appreciate was a time of great change in Australia. Robert Menzies retired as Australia's longest-serving Prime Minister, the introduction of decimal currency replaced the Australian pound and most significantly the Australian society experienced the ease of restrictions on immigration for non-Europeans. This ease importantly contributed to the abolishment of the White Australia Policy and reflected a new understanding for the appreciation of diversity and inclusion. This is specifically significant for the change of discourse on our uniform List of Requirements for Boarders.
More closely tied to my schooling days was the abduction of the Beaumont children from Glenelg Beach, the 1967 introduction of the Post Code System and the release of Sadie (The Cleaning Lady) by Johnny Farnham.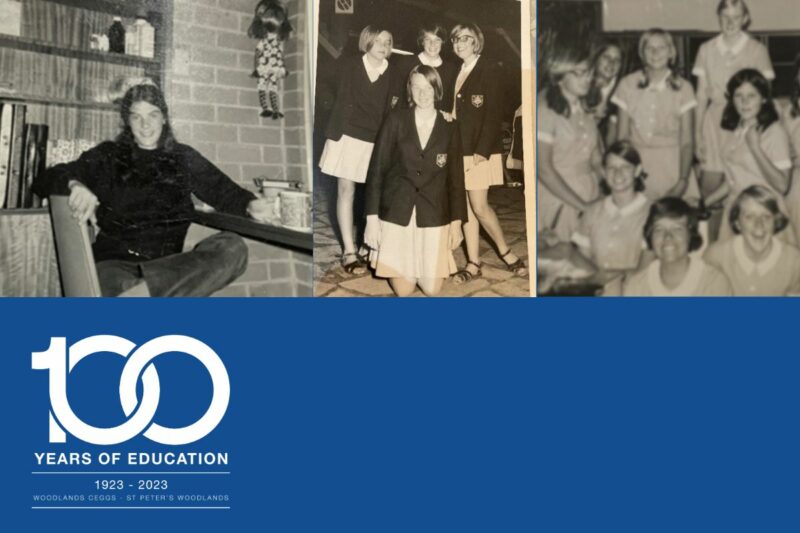 Miss Baddams and her leadership
The publication of the Woodlands 1923-1973 (celebrating the school's 50th anniversary) acknowledges how Miss Thenie Baddams had to perform the most difficult task as Headmistress, maintaining the basic character and intentions of Woodlands during years of incredible rapidity of social and economic change. Into this mix my schooling life and those of my peers were shaped by her leadership and the mistresses and teachers who were influenced by her unflinching firmness in the development of our education and wellbeing. We were after all known simply as 'Girls'.
Letters home
After my dear mother passed away in 2018, I came across a bag of letters and papers. On closer inspection I realised she had kept every letter and documentation that I had sent to her from my life as a boarder. Every Sunday we were monitored at school to ensure we wrote a letter home. I have re-read all those letters with delight, wonder and some sadness. This included the envelopes that were empty, only containing a row of kisses & S.W.A.L.K. on the inside – No time to write this week.
The significance and influence of Woodlands
The innocence of childhood and youth, the privilege of our educational opportunities and the forming of friendships with girls from all over Australia, Japan and Malaysia was not understood as something significant to me in terms of the broader changes occurring in the Australian society. My letters have also highlighted the hidden influences that I am truly grateful for. I sincerely thank the class of 1971 Day girls, their parents, aunties and uncles and all those who spoilt and supported me as a boarder. I cannot thank you enough for your friendship, love and commitment to my wellbeing during my time in the boarding house.
Finally, to 'The Boarders' – I am the person I am today because of the many experiences we shared. Words cannot express how much those years of friendship and fun have remained with me over the last 50 years. I hope my personal letters home will bring back special memories to you of the times we shared together and what it meant to be a Boarder during the years of 1966-1971.
We were and always will be, simply, GIRLS.     
Exerts from the letters
The Boarding House is very nice. We all have our own cupboard, mirror and drawers in our dormitories. We have our own heater and the mattress on my bed doesn't have any springs poking up. The older girls have two hours of homework each night. For the past two nights I did French for one hour. I am sorry though because it didn't do me any good.
We sometimes go swimming at the beach on Mondays, Wednesdays and Fridays for our Sports lessons. One day I was doing overarm and didn't realise I was going out deep. Next, I knew everybody was out of the water and the teacher was yelling out to me to get out because of porpoises. She said they were about ten feet away. You nearly lost me! I got terribly shaky after that & nervous.
Yesterday we went to Moana Beach and had hamburgers for tea on the beach.
Today we visited the National Park while the older girls played softball with the Saints boys. Susie and I went to the kiosk and then walked around the lake and found a place to sit and watch the ducks. That night the Saints boys came to tea and chapel with us.
Can you please write and tell me if I am going home by train or car for the exeat? I can't wait. I got a letter from Alistair at PAC and he wants to know if I am going home on the train. Can I please??? Write soon and tell me I can. He said we would be good company for each other. Marni is coming home with me too (she loves 'pop' records) and Mrs Page would like to know if she needs to book two tickets. Did you know that Marni said she would never read a book and now she's got one and can't get away from it? [We are leaving on the five past 5 train. I am wearing pig tales (don't flip) and they look cute!!]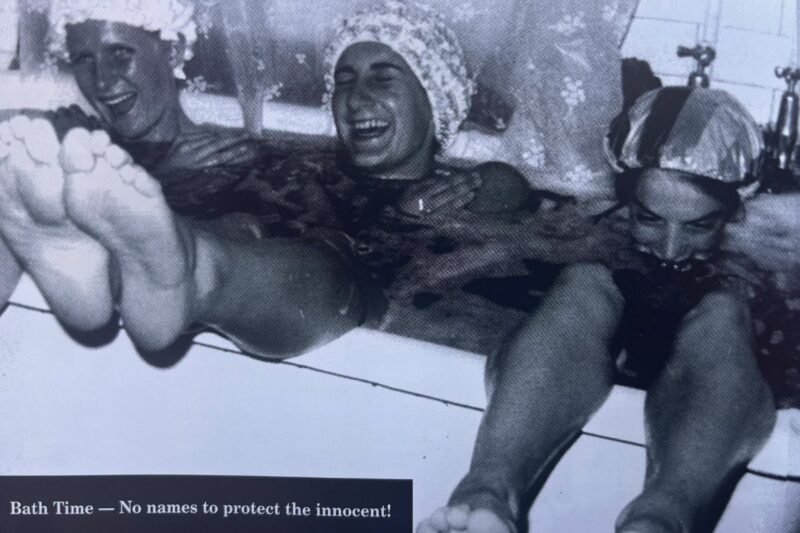 At the show grounds we were shown how to put up a tent and light a campfire. For tea I had curry, jelly, fruit and sweets. I slept in a double bed with Marni. At 6 am we went for a walk along the beach and then Miss Williat's sister took us to the Cong Church at 11 am. We had lunch at the Guide Hall before going for a hike.
On another weekend we went to see the Indian Dances. Not many of the girls liked it but I thought the colours, actions they made, and the music and singing were really beautiful. I think you would have liked them too.
Last night Ruth, Sandy and I were on 'Waiting' in the dining room. We had to take it in turns to wipe dishes and see that the dining room is tidy. When I sat at 'A Table' on Friday lunch Baddams spilt the jam jar as she banged her spoon onto her plate. Jam went all down her frock, up the wall and all through her hair. It was so funny. Dewar and I couldn't stop laughing.
We went to Holy Communion in the chapel this morning and tonight we had the Chaplain from Pulteney talk to us at evensong. He's a little man but he really knows what he's talking about. He gave a good sermon. Our school chaplain went to Melbourne last week and when he returned he gave me his samples of tea and coffee that he collected from the motels. I was really pleased.