As parents, all we want is for our children to be happy.
And rightly so — studies show happy children perform better at school and are more likely to turn into successful, accomplished adults.
But happiness involves more than just teaching children to be positive.
For a child to be truly happy, they need to be able to accept occasional difficult feelings — which are inevitable in life — and have a 'toolbox' of strategies to help them cope and manage these feelings when the going gets tough.
This is what we call wellbeing. Your child's wellbeing cannot be fostered by you alone. Schools, along with the wider community, have an important role to play, too.
That's why at St Peter's Woodlands we're committed to working in partnership with parents to support the wellbeing of each child in our care, from ELC to Year 6.
In 2019, we employed Steph Eustice as our School Psychologist and in 2020, Simon Theel, our Deputy Principal and Head of Primary, further strengthened our focus on wellbeing by developing a comprehensive Wellbeing Program.
This year, our commitment to student wellbeing has remained as strong as ever, with some promising new wellbeing initiatives introduced.
Understanding wellbeing
Wellbeing helps children navigate day-to-day life and feel a sense of belonging and safety, all of which are key to setting your child up for success, Steph says.
"There's two aspects to wellbeing.
"For the students themselves, it's about ensuring they've got the tools and strategies to navigate day-to-day life, and that they feel a sense of belonging and safety within their environments, especially at school."
According to the Australian Government's Institute of Health and Welfare, when a child's wellbeing is fostered, it can also help build their resilience — necessary to help them work-through challenges they're bound to face in their lives.
"Factors impacting wellbeing can be family related, like changes in family circumstances, separation, even a new brother or sister," Steph said.
"There are also students who have additional learning needs which can make their day-to-day experience more effortful, or some students who have health needs they are managing."
The role of the COVID-19 pandemic can't be downplayed, either.
"There's never been so many disruptors to routines," Steph said.
"There's a higher level of fatigue among families, staff and students, and coping with all the changes thrown at us — when you hit that level of exhaustion — it makes day-to-day problems more challenging to navigate."
Wellbeing at St Peter's Woodlands
At St Peter's Woodlands, we run a range of targeted wellbeing programs and initiatives to support our students' wellbeing — many of which have been shown to have a positive impact on attitudes, behaviours and academic outcomes.
"Wellbeing is the foundation for everything at school," Steph said.
"For students, if they're not feeling that sense of wellbeing in themselves, it's hard for them to perform at their best in their learning, peer relationships, trying new things…that sense of well being is at the heart of everything.
"It puts you in the best frame of mind to build on your skills."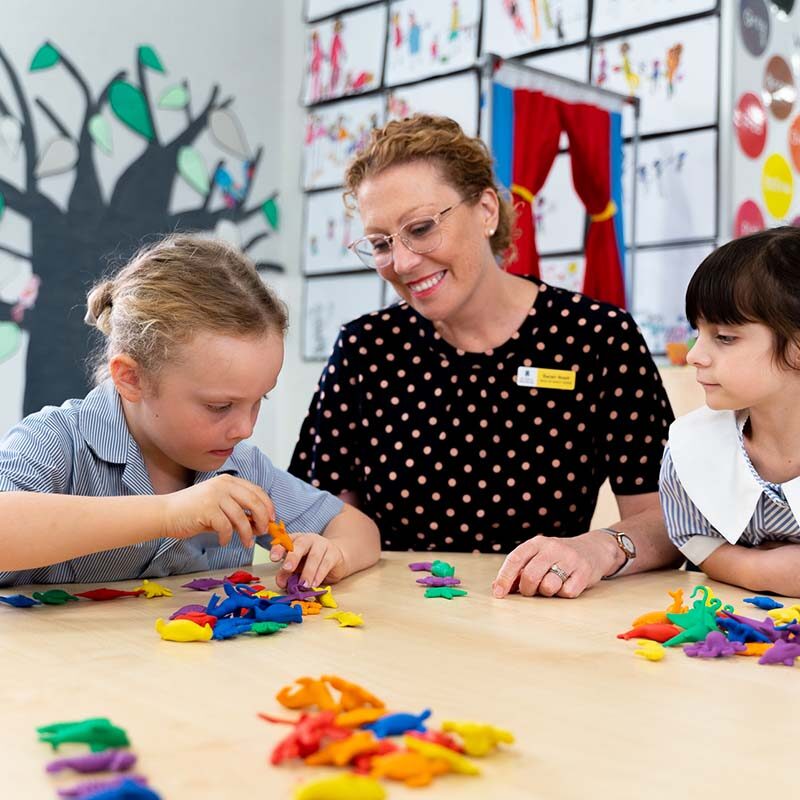 Our three flagship programs include:
The BounceBack program for students from Reception to Year 6, which is linked to the Australian Curriculum and designed to encourage relationship building, development of social and emotional skills and give children a language to use when talking about their own wellbeing and development.
The Kimochi Program for ELC students, which is a playful way to help children to learn how to identify and express feelings, to support the development of positive social skills; and
Seasons for Growth, a short term, eight-week program delivered by Steph and St Peter's Woodlands' Chaplains to support students who have experienced grief or loss.
This year, St Peter's Woodlands Principal, Mrs Helen Finlay has introduced the Pivot Program for students in upper primary (Years 3 to 6). The Pivot Program involves each child completing a weekly survey to measure, track and support their wellbeing.
"Once a week, we ask the same questions to the students to gauge how they're feeling about a range of factors," Simon said.
"It asks questions or asks them to rate responses to things like 'how are you feeling', 'have you felt safe at school' or 'my friends take care of me'.
"Part of that survey also enables students to reach out and ask for help from their class teacher, a member of the school leadership team or Steph, the School Psychologist.
"If they do, I'll touch base and have a quiet chat with them to identify whether it's their work, a friendship issue or homework — whatever it is, we can help them work it out."
"They have an opportunity to click a button that says 'I'm struggling and I'd like to talk to someone.'
Simon says that students have been receptive to the weekly check-in surveys.
"They can see there's a caring factor and we're working with them and their families to do what we can to support them," he said.
Wellbeing at home
In the pursuit of happiness, there's an interdependence between the role that school and home play when it comes to supporting your child's wellbeing, Simon says.
"We're here some of the time, children are home a lot of the time as well.
"So, we need to work as a community, in partnership, to support children with open communication."
According to Steph, there are many things you can do to support your child's wellbeing at home.
"Never underestimate the importance of a good night's sleep and making sure you're eating well," she said.
"Find opportunities for gratitude in your day, don't always be focused on what's coming next and appreciate what you have now.
"Finally, quality relationships, being able to spend time together."
For more information or questions regarding St Peter's Woodlands' wellbeing program, please contact our School Wellbeing Coordinator, Simon Theel.