Year 4 students visit Glenelg Town Hall to explore Local Government.
The Year 4 students were lucky enough to meet Amanda Wilson, Mayor of The City of Holdfast Bay and participate in a mock council meeting to better understand how local government contributes to community life.
Exploring Town Hall
Students walked to the Glenelg Town Hall and met Ms Wilson, who showed them into the Mayor's Parlour. She spoke about the functions held there, including recently hosting the Navy for the anniversary of HMAS Glenelg. Students got to see the Mayor's chair, which was carved out of wood from the original HMAS Buffalo.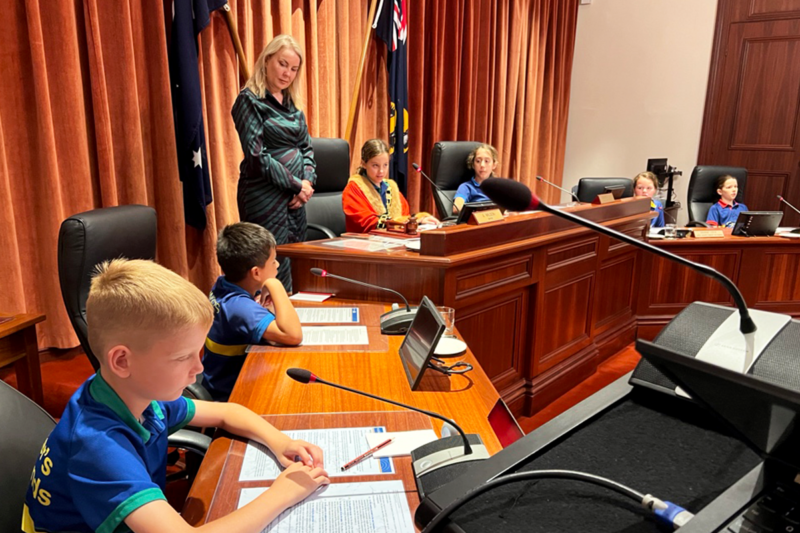 The Rules of Council Meetings
From the Mayors Parlour students were led into the Council Meeting room. Students were selected to act as local councillors as well as the CEO and GMs of The City of Holdfast Bay Council.
Ms Wilson spoke to the students about the rules and laws of how a Council Meeting must be run, including who can speak and when. Students were given the opportunity to ask questions and learn more about how Local Government contribute to community life. This links directly to the Year 4 Australian Curriculum (Humanities and Social Studies) which explores the importance of local government and the cultural and social factors that shape identity.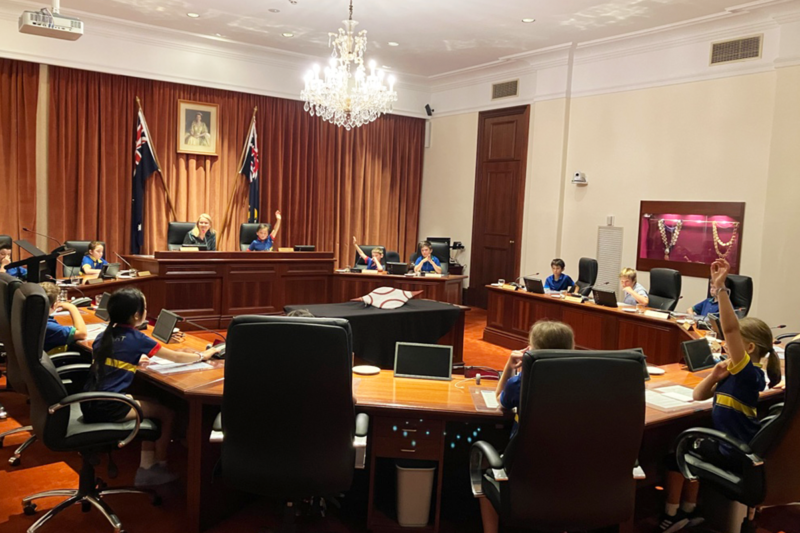 The Big Debate
Ms Wilson allowed the students to debate a proposal of whether the voting age in local council elections should be lowered to 16. She explained each councillor only has one opportunity to put their views forward. If they wish to speak again it must go to vote and they must receive two-thirds of the votes in favour to speak again.
Students acting as councillors had the opportunity to be heard. The proposal then went to vote. The decision was turned down, as the council did not receive two-thirds voting in favour of the voting age changing to 16.
Local Government in Real Time
Since the student's visit to Town Hall they have been able to witness the power of local government in real time with the unanimous vote by The City of Holdfast Council to install a wombat crossing at the Partridge Street school crossing after Principal Helen Finlay and the school community raised concerns about children's safety.
"It was interesting to see all of the seats and the Mayors office. I liked her robe and chains. It was interesting hearing everyone's thoughts and questions. It was cool inside. She taught us how Holdfast Bay was once two councils, Brighton and Glenelg which came together to form Holdfast Bay Council. I loved speaking in the microphone." Raph
"It was really exciting visiting the Mayor, I got to dress up in the Mayor's robes and chains. I got to chose people to speak and I was in control of the meeting. I felt powerful". – Imogen