We are delighted to welcome Mrs Helen Finlay as the third Principal to St Peter's Woodlands, commencing her tenure with the school at the beginning of Term 4, 2020.
Helen comes to St Peter's Woodlands with a wealth of knowledge and experience from across a variety of educational settings.
"I am excited to be joining the St Peter's Woodlands community. After spending some time with Mr Christopher Prance, I am aware I have some very big shoes to fill. He has done an amazing job over the course of his 17 years in leadership. But I am also very excited about this new season and looking forward to working together with staff, students and families," says Helen Finlay.
Helen holds a Master of Education from the University of NSW, Certificate of Gifted Education from the University of NSW, Bachelor of Arts and Diploma of Education from Macquarie University, and is currently completing her Masters of Education Leadership at Macquarie University.
"I am passionate about education because I know we are growing young people to go out into the world who are going to be the guardians of this beautiful planet that God has created. I love working with children and I desire them to find their passion and purpose. I think that's a very big part of what teachers need to do, to help children find out what they are really interested in and give them the tools to satisfy their curiosity."
Most recently Helen was the Head of Junior School, St Philip's Christian School, Gosford, and Director of Teaching and Learning across the whole school (Reception – Year 12). She has previously been an education consultant for the NSW Association of Independent Schools, and taught at St Luke's Anglican School Bayview and Oxford Falls Grammar School.
Helen is enthusiastic, engaging, and has extensive teaching experience in primary education, together with considerable International Baccalaureate experience and accreditation.
"I truly believe in the IB Primary Years Programme (PYP) philosophy so I was thrilled to hear St Peter's Woodlands is an accredited IB World School. We also know children need to have groundings in literacy and numeracy so they have the tools in their tool kit to be good learners. The best way we can teach the foundations in literacy and numeracy is through explicit direct instruction."
"We know that good old fashion instruction in literacy and numeracy is so important so children have the tools that they need to be self-directed inquirers who are able to learn about the world, and can actively pursue what interests them."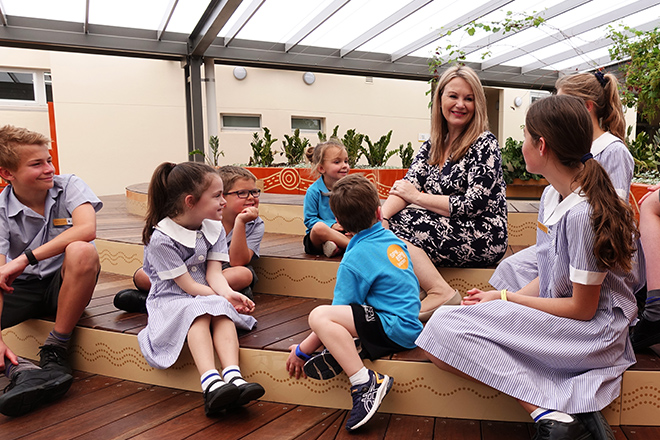 Helen is a passionate, innovative and resourceful leader in education, with a proven ability to cast vision, drive twenty first century learning, and lead staff through the necessary changes of school improvement. As an experienced speaker, she has presented at education conferences and written and delivered over thirty professional development courses for teachers and education leaders, and consulted to principals and teachers across a range of Independent Schools.
When asked to list three words that best describe herself, Helen says, "I would say I'm passionate, enthusiastic and humorous. And by that I mean I do like to laugh a lot. Particularly when times are tough, it's good to have a sense of humour, have a laugh together, and to reflect on how lucky we are, and the gratitude we should have for everything we have in our lives."
Helen recently relocated to South Australia with her husband, Pete, and two dogs Bear and Banjo. They are settling into the local area and looking forward to getting to know our school community.
"I have to say the beauty of this coastal area has exceeded our expectations. We are excited to explore and discover more of South Australia."
Helen and Pete have four young adult children who are completing their studies in NSW and are looking forward to visiting South Australia as often as possible.
"Our children have been joking that it's actually children that are meant to leave home, not the parents! They are very excited about the prospect of visiting us here often."
On behalf of the St Peter's Woodlands School Council and our school community, we would like to warmly welcome Mrs Helen Finlay to St Peter's Woodlands. We are excited about the future of St Peter's Woodlands, as Helen builds upon the strong foundations already in place.
Learn more about Helen in our Q&A video