In the spirit of celebrating 100 Years of Education on this site, the Year 3 students were tasked with creating an artwork which reflected the history of education at 39 Partridge St.
This project required some research which included a tour of the Law Smith building and exploring historical artefacts and Woodlands' memorabilia. Using the research as the basis for their artwork ideation, the students explored how the Woodlands' history sits in contrast to that of SPW in current time.
The base of the artwork features a stylised Gillam building, the Morton Bay Fig Tree and a detailed Law Smith building, illustrated by Year 4 student, Ashton Meakins. The group used a variety of interesting line work with SPW colours to create a cohesive and eye-catching artwork. Other images include boarding house beds, an ink pot, iPad and a chicken, reflecting just some of the stark differences in education that have developed over the past 100 years.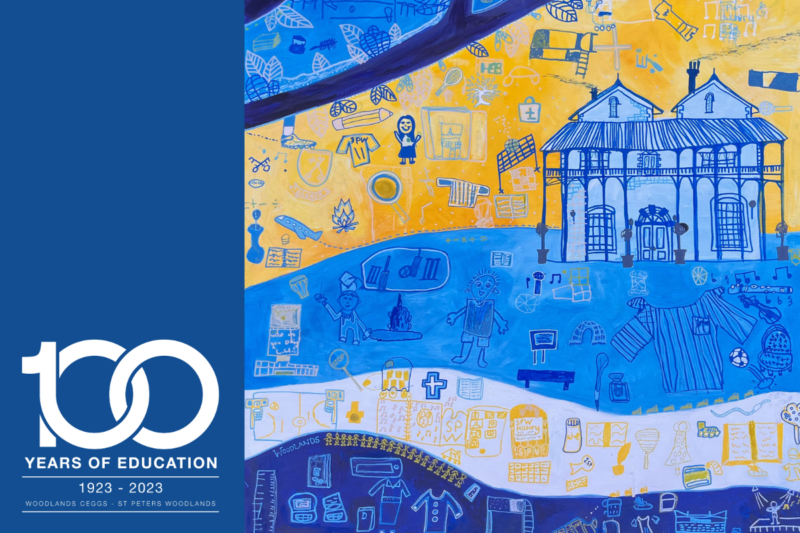 The three piece canvas artwork was showcased during the school's recent SALA exhibition and is currently on display in the Law Smith Building near the Old Scholars' Lounge. The artwork was introduced to all the students during assembly as the school continues to recognise the importance of honouring and reflecting on our history. The piece has been reproduced as a fence line banner for the community to enjoy. Further to this, it will be a centre piece at the 100 Year Celebration Back to School Event, where Woodlands' old scholars will be welcomed back to relive their school days and connect with one another on October 21.
Article shared by Paul Mesecke and Jess Hancock