Celebrating our rich history of 100 Years of Education
This year marks 100 Years of Education on the site of 39 Partridge Street, Glenelg. In 1923 the Law Smith Family bequeathed the Law Smith building and grounds to the Church of England for the purpose of Anglican education for women. In 1999, following the closure of Woodlands Church of England Girls' Grammar School , the visionary new school of St Peter's Woodlands Grammar School was formed from the existing co-educational primary school of St Peter's Glenelg.
Whilst each school has its own unique culture, many of the much-loved traditions and values have carried through, including St Margaret's Day, the Elaine Balfour Ogilvy Memorial scholarship and the names of the school buildings. The school has transformed over the generations, however the legacy of school spirit and pride is still very much the fabric and ethos of the school today.
The very walls of the school hold an abundance of rich history and memories, and we continue to honour this and look for ways to pass these stories on to upcoming generations of students. One way we will be doing this, in this year of celebration, is to hear from old scholars and their experience of schooling.
Margaret Messenger is a Woodlands CEGGS old scholar with a long history and association with the school grounds – she is also mother to Jo Gray our Enrolments Manager. We are so fortunate to have such a strong connection to our history at our very door step, literally.
---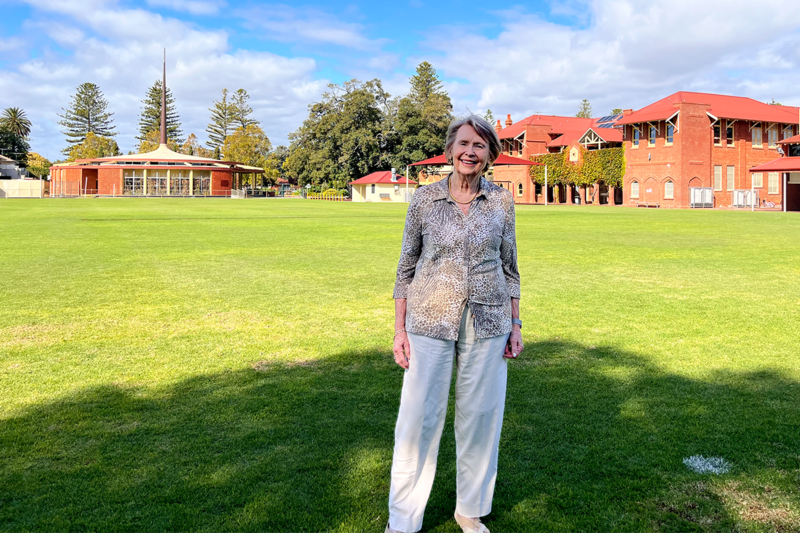 Reflections on the school grounds and a life-long association with the schools that have possessed it. – Margaret Messenger
School Days
My family has been associated with Woodlands, now St Peter's Woodlands, since it began in 1923 and for me it has been a life time association.
My years at Woodlands were generally happy, I was an above average student (Intermediate 8 subjects, Leaving 6 subjects plus a Commonwealth Scholarship) and I participated in all sporting activities at school. Living so close to the school I was the outside collaborator for the Boarders 'mid-night feasts'. I kept the food and ice cream at my place and would sneak over the wall of the Hudd House Kindergarten whilst the boarders crept down the fire escape and across the Hockey field to our rendezvous. The feast never tasted that good at midnight, but it was the excitement of the event that we enjoyed. I'm not sure whether the boarding house staff ever knew about it!
The boarders had their lights out at 9pm and I suffered for that; my bedroom was upstairs at the opposite end of the hockey field and 'Mill' (Miss Millington, Principal) who lived at the Lodge at the other end would often say to me, "Margaret, your light was on late last night" in a very disapproving voice. I could hide it from my parents who were downstairs, but not Mill.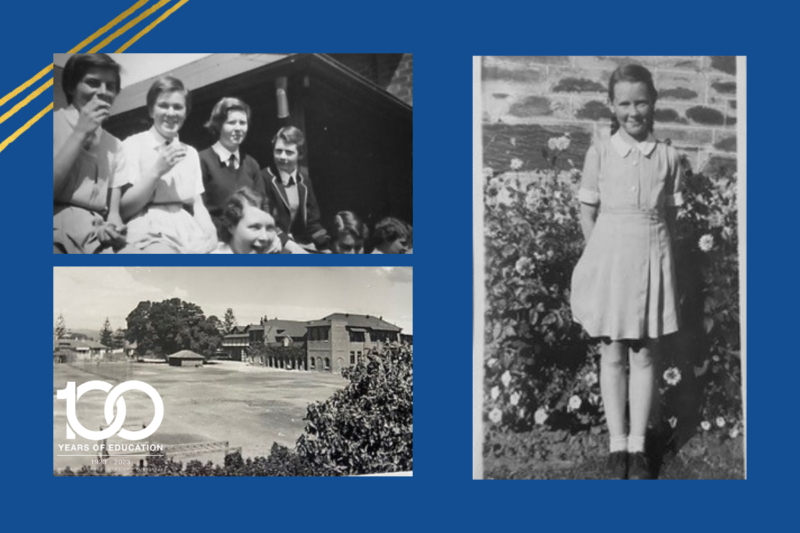 Woodlands' claim to fame then, was that two of their students, Denise Norton and myself, were the first two South Australian women to be selected to represent Australia in an Olympic Games swimming team, Denise in 1952 and me in 1956, and we both lived in Giles Avenue!
My association with Woodlands continued after I left in 1955 as I returned to Woodlands to teach Physiology and General Science in 1959-60. These were the last years of Miss Millington's years as Principal.
My daughters Jennifer and Jo were pupils of Woodlands from 1978-1984 and so our association with the school continued. Mr Thorpe was the Principal during that time and he lived in Maturin Road in the house that Woodlands had bought from my Auntie Glad (nee Percival) and Uncle Harry Cant. Mr Thorpe used to go to school each morning through the back gate and across the hockey field, chatting to the students as he went. My nieces Pip Rugless, Jane Gibson and Catherine Brown also attended over the following decades.
I think many Woodlands old scholars, staff and current families were shocked at the decision to close Woodlands at end end of 1998 and there was a lot of disquiet and blaming. It was not a happy time.
However like 'phoenix rising from the ashes', and after much negotiation, St Peter's School Glenelg, amalgamated with Woodlands to become St Peter's Woodlands – a primary and early learning school. This has turned out to be a very happy event and now we have a successful and well respected school.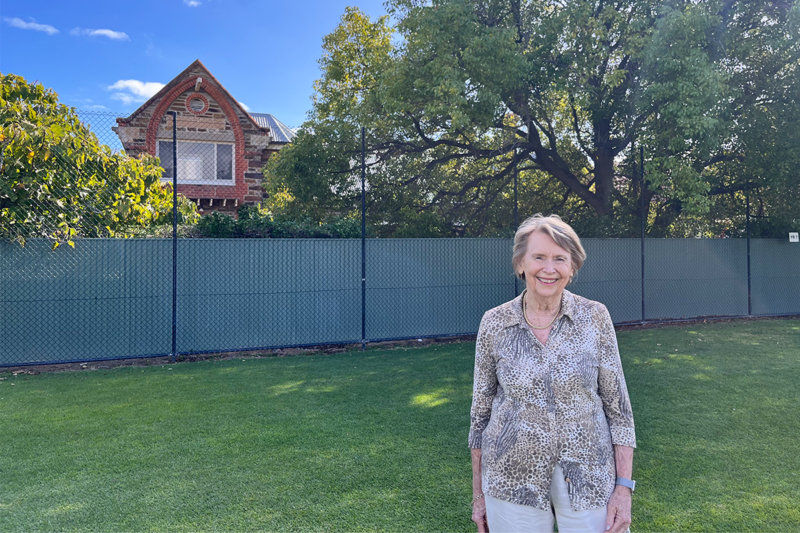 The History of the Grounds 
Historically, in 1907, my great-grandfather, Thomas Bonython Percival, bought the land adjacent to the Law Smith family. The Law Smith family occupied the south east portion of Partridge Street, Pier St, Moseley St and Maturin Road block (which was then divided into four portions) and my family occupied the north east portion.
In 1923 the Law Smith family gave part of their property for the formation of a Church of England School for girls. This was Woodlands.
That year my great grandfather died and most of the large family home, Bromley, was left unoccupied. Woodlands rented part of Bromley for the Kindergarten, a Girl Guides room and the back shed for an Art Room. The southern portion of Bromley consisted of a vineyard, vegetable garden, windmill and the famous Moreton Bay fig tree. Woodlands rented this for playing fields and later purchased it from the family.
My mother, Jean Percival, was enrolled at Woodlands in 1925 and spent her school years there until she left in 1931. She was a devoted old scholar and, for a period, was the President of the Woodlands Old Scholars' Association. She remained in contact with the school and with many of her Woodlands friends until her death in 2007.
My mother married in 1935 and moved to Sydney to live. She had two children there, my brother Austin and me. However when WW2 started my father joined the Air Force and we moved back to Adelaide to be near my grandparents, Annie and Sam Percival, who lived on the western side of the Bromley house.
My brother Austin Gibson, started in the kindergarten in 1941, (formerly Hudd House, now the sports equipment building at the end of Giles Avenue) and I started in 1943. In 1947 my sister Ann enrolled and then my youngest sister, Barbara Cook, in 1958.
In 1946 my father died in an unfortunate accident and my grand parents moved my mother and children into the house that was attached to the Bromley Stables. The house and gardens form the western border of SPW. I used to go to school through a hole in the hedge near the fig tree exactly the same as my mother did.
My mother, now Jean Cook, lived there until she died in 2007. Then my husband, Jack, and I moved back into the house (where I grew up) and I still live there. You can see it from the end of Giles Avenue.
I am proud to have SPW as my neighbour and even more proud that my daughter Jo Gray is  a significant member of the administrative staff. My grandchildren Fergus and Harriet Gray attended SPW for their last years of primary school thus keeping up the family association with SPW. There are four generations of my family who have attended the school. I think that is very unique.
My association with Woodlands, St Peter's Woodlands has been a life-time event for me and I invite my 'old' school friends to join me at the Centenary Celebrations in October.