During Term 3 Years 3, 4 and 5 set off for the individual camps as part of SPW's Outdoor Ed curriculum.
Year 3 Camp
The Year 3 students embarked on their first school camp at Woodhouse in the Adelaide Hills on Monday 12th of September. Full of excitement they piled onto the buses. Once they arrived, they settled into their dormitories, had a quick packed lunch and got ready to start a day of activities.
Students enjoyed building and racing billy-carts, boomerang making and throwing, orienteering, shelter building and camouflage games. It was a great opportunity for students to enjoy a variety of experiences with new and old friends. They enjoyed a delicious BBQ dinner, settled down to watch a movie and slept in their dorms.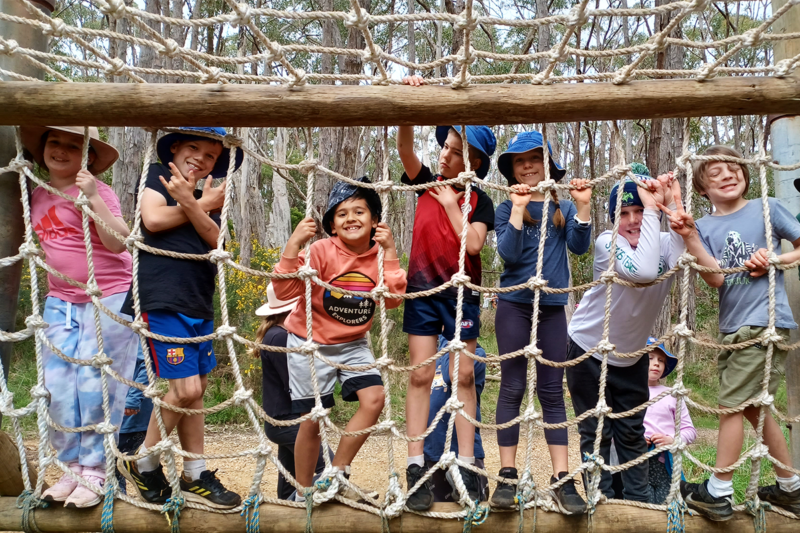 The second day was spent doing more activities and tackling the obstacle course Challenge Hill, before jumping back on the bus to return to school. The Year 3s displayed enthusiasm, persistence, confidence and team-work.
Year 4 Camp
The Year 4 students headed off to camp at Douglas Scrub in picturesque McLaren Flat. For most of the students it was the second time they had experienced the joys of camp. For some, it was the first time they had ever slept away from home.
Students were placed in four groups and would spend the next three days supporting and encouraging their peers within these intimate groups. Students participated in team challenges including; rock-climbing, damper making over a campfire, water ecology, adventure trail and bush walking.
All students spent one night in the warm and comfortable dorms with all the creature comforts of home. They feasted on pasta and garlic bread and warm apple pie and ice cream for dessert. During the evening they enjoyed time with friends in their dorms.
For those not in dorms the campsite was a perfect location to set up tents and enjoy an authentic outdoor camping experience. Students set up their own tents and rolled out sleeping bags, prepared for the night. They feasted on gourmet BBQ meats and salads on their laps around the campfire.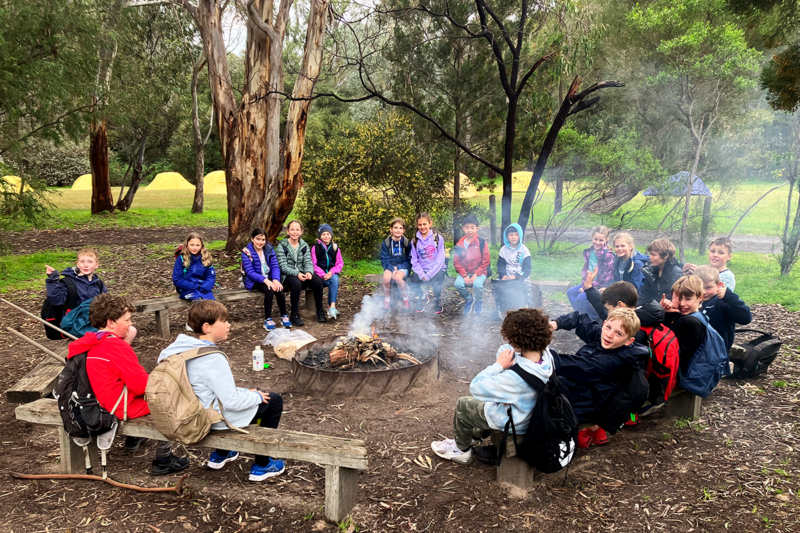 Once dark, students enjoyed a night hike listening to the expertise of the stargazers, viewing constellations and planets clearly visible in the clear night sky. We listened to the sounds of various frog species, owls and a rooster whose body clock was severely out of sync! Upon return to the campsite students shared highlights from the day and settled into their tents for the night.
Rain changed our plans for the Old Olympic Games on Friday with rain bucketing down and swamping our campsite. We made the decision to return to school on a high, dry and happy to be reunited with our families.
We were extremely proud of the courage, resilience and support shown by the Year 4 students. It was a delight to experience camp with them all.
Year 5 Camp
The Year 5s had an amazing adventure at camp spending two nights in their tents in the Riverland. They spent their days canoeing on the dam, exploring ecology, fishing and laughing loudly as they splashed from the flying fox into the water.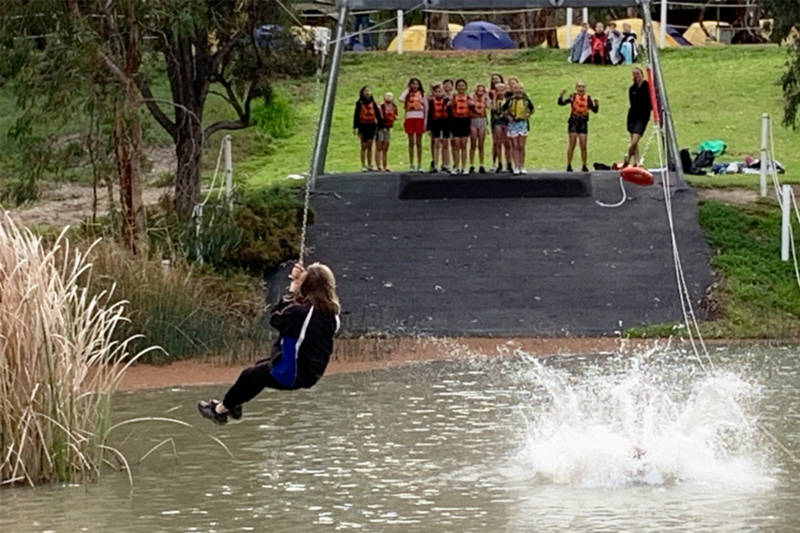 We toured the Ngaut Ngaut and learnt about Aboriginal history in the area. The students found this particularly interesting as they learned how local First Nations people lived. We also explored artefacts and examined etchings and their meanings.
Our Year 5s tested their culinary skills by successfully cooking dinner on Trangias during their expedition night. An experience to be remembered.