It has been wonderful to have increasing numbers of students attend Chapel over Term 2.
The easing of restrictions has meant we can worship in sub-schools, with either Junior Primary classes or Years 3-6. This has been a positive step towards rebuilding a sense of community and school culture after we have been separated into smaller groups for so long.
Our hope is that over the next two terms restrictions will lift further and we will be able to return to whole school attendance with year levels once again having the opportunity to plan and lead the worship.
St Margaret's Day Service
One highlight this term was our St Margaret's Day service in Week 7. A great number of old scholars returned to be part of the worship and also to meet afterwards in the newly refurbished Old Scholars Lounge (formerly the Lower Boardroom).
The service itself was an opportunity to recognise the 'Years of Service' Awards for students in Chapel Choir and Chapel Band as well as officially congratulating the Choir and Band Captains. We acknowledge with gratitude the Old Scholars Association for providing gift vouchers for the Years of Service awards.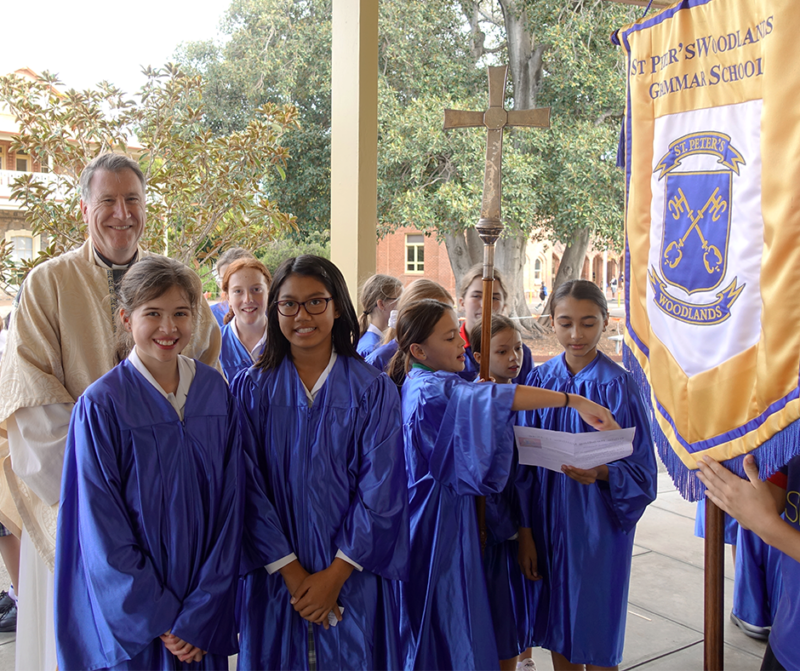 Admission to Communion
Another highlight for this term has been the eleven students from Year 3 who have been preparing to be admitted to communion.
The celebration of this commitment and the receiving of their first communion was a very special feature of our final chapel service for the term.
Family members were able to be part of the celebration and this gave the service a beautiful sense of our whole school community. Well done to all those students who participated.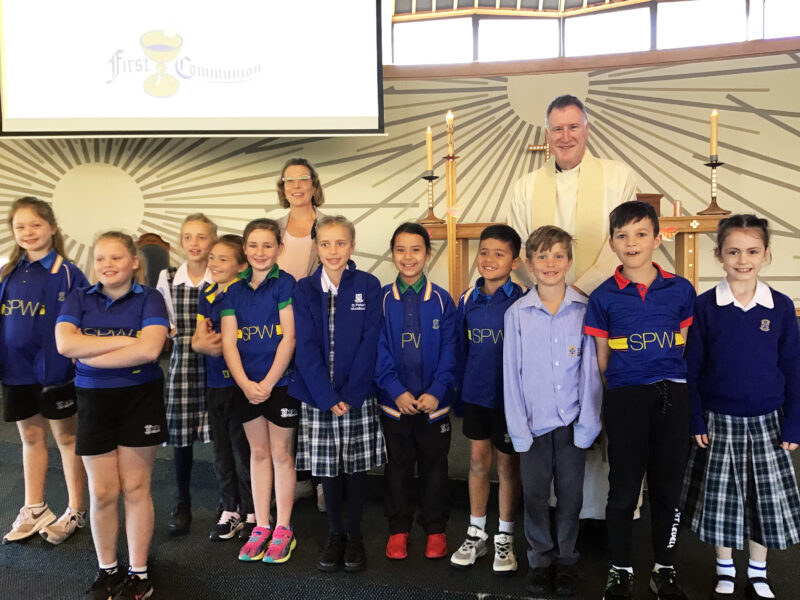 Youth Alpha
This year, as part of the DARE – Year 6 Graduate Diploma, each Year 6 class has been spending one lesson a week over the course of a term working through the Youth Alpha program with Rev'd Michele.
This is a great resource for bringing together all of the faith and spirituality input the students have received over their time at St Peter's Woodlands. With this good grounding in the Christian faith, any students who choses to will have the opportunity to confirm their faith when the Bishop attends for the confirmation service in Term 4 (there will be further information about this in term 3).
Once again we acknowledge the generosity of the St Peter's Woodlands Old Scholars' Association who purchased the Youth Alpha workbooks for the Year 6 students.
On behalf of Rev'd Michele and myself I wish all our staff, students and families a refreshing, safe and healthy mid-year break.
---
Thank you Rev'd Andrew Mintern, SPW Chaplaincy Team for sharing this article.