The youngest students at St Peter's Woodlands might not know how to say the word reconciliation yet, but from as young as two, these children are learning about Kaurna culture through their connection to local elders.
Ngarrpadla Daphney Paringangki Rickett — a Kaurna, Ngarrinderi, Latji Latji Elder and a respected Indigenous artist — has been a familiar face at St Peter's Woodlands since 2019. The staff and children refer to her as Aunty Daphney.
Over the past two years, Aunty Daphney has been running activities with students, helping to develop a Reconciliation Action Plan, as well as creating artwork for a new outdoor plaza.
By forging relationships with Aboriginal elders like Aunty Daphney and providing meaningful opportunities for students to learn about Kaurna culture, St Peter's Woodlands students are exploring how we can all contribute to achieving reconciliation in Australia.
Celebrating National Reconciliation Week 2021
To mark National Reconciliation Week, held every year from May 27 to June 3, the school held a naming ceremony for the new outdoor plaza. Completed in 2020, the new outdoor plaza — officially named 'Piltangka Plaza' – features artwork by Aunty Daphney. Choosing the word 'Piltangka', which is a Kaurna word meaning 'together', was a considered and meaningful process undertaken with respect and permission, following appropriate Indigenous protocols.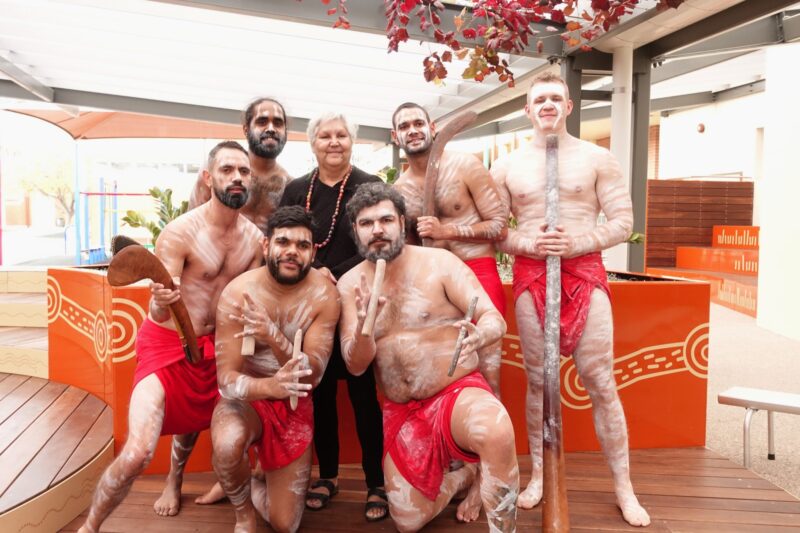 The artwork within 'Piltangka Plaza' symbolises St Peter's Woodlands' story: a journey involving the water, adults, children and a meeting place.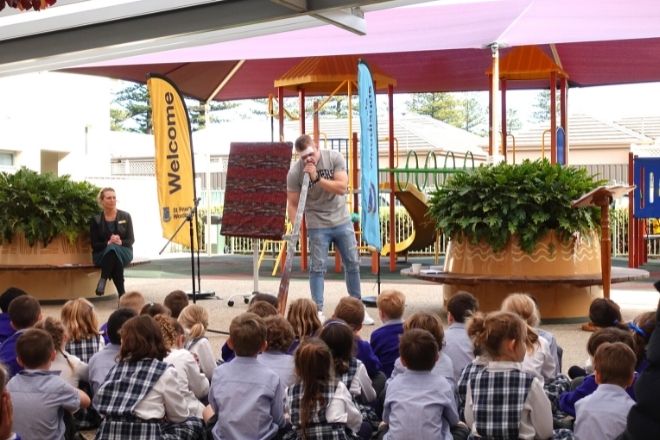 "Each of the symbols I've chosen has a connection to the school, and the history of the school," said Aunty Daphney.
"One of the symbols represents journey — the journey for students in their education, but also their lifelong journey."
"There are also symbols for water," she said. "I'm very connected to water, being from the Riverland, but the school is also connected to water, being by the sea."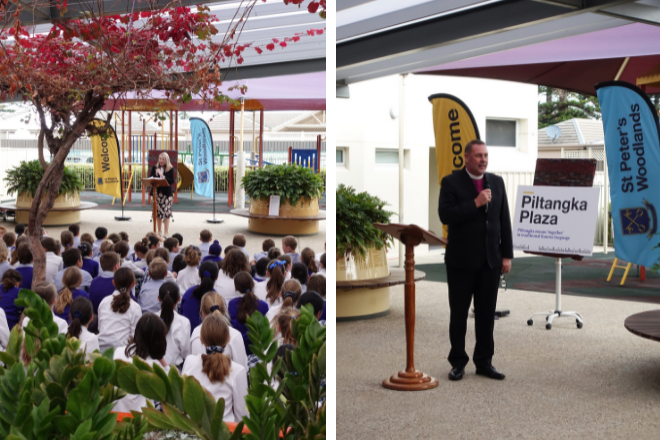 Joining staff, students and Aunty Daphney at the ceremony, some of the special guests included Bishop Chris McLeod National Aboriginal Bishop for the Anglican Church of Australia, Amanda Wilson Mayor of the City of Holdfast Bay, Hugh Sutton Advisor representing The Hon Stephen Patterson MP, Carolyn Grantskaln Chief Executive of The AISSA, as well as School Councilors and Foundation committee members. The ceremony featured a dance performance from Kuma Kaaru, Indigenous Dance Ensemble, as well as a bush tucker afternoon tea.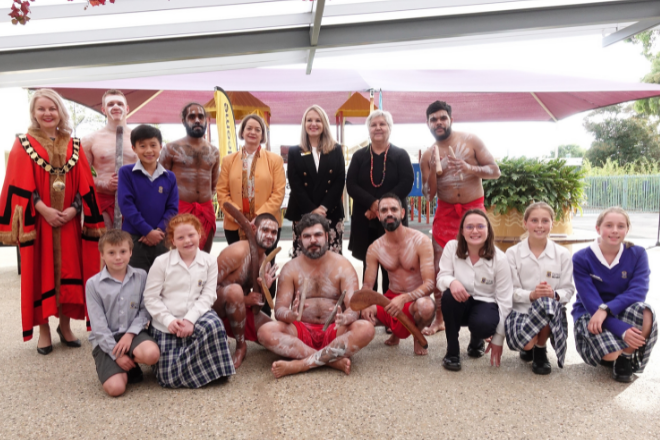 St Peter's Woodlands would like to acknowledge and thank Reconciliation SA for their support through the 'Reconciliation Education Activities Grant' which we were awarded for this event.
"More than a word. Reconciliation takes action"
St Peter's Woodlands Reconciliation Action Plan
At St Peter's Woodlands, students make a connection to Kaurna culture a part of everyday school life — not just during National Reconciliation Week — thanks to the school's Reconciliation Action Plan (RAP).
"We launched our RAP at the start of 2020, with vital support and guidance from Aunty Daphney," said Meredith Williams, St Peter's Woodlands' Community Development Manager.
"Our RAP outlines the school's commitment to strengthening relationships, respect and opportunities in the classroom, around the school and with the community."
"It also aims to develop an educational environment that fosters higher levels of knowledge and pride in Aboriginal and Torres Strait Islander histories, cultures and contributions."
Making a connection to Kaurna culture part of everyday school life
At St Peter's Woodlands, both students and staff have the opportunity to be engaged in events and activities that develop their knowledge and understanding of Aboriginal and Torres Strait Islander histories and culture.
These include incorporating a Welcome to Country into formal events and important occasions, flying the Aboriginal and Torres Strait Islander flags alongside the Australian flag, adding Kaurna greeting phrases to the student diaries, and replacing the learning of German in Reception and Year 1 with Indigenous languages.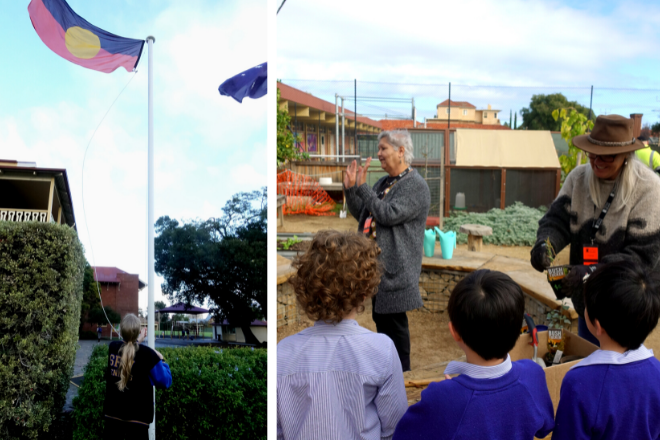 As part of National Reconciliation Week last year, Aunty Daphney helped establish an Indigenous native garden in the Nature Play area with the Year 2 students, alongside Dolores Amos, also known as Ranger D.
The children learnt the benefits and significance of bush tucker for the Indigenous people and the importance of caring for these plants, and also had the chance to visit the Botanic Gardens to learn about Aboriginal plant use. The garden is continually growing and being cared for by the children.
Each year, Aboriginal storyteller, Trent Hill, comes in and works with the children in the Early Learning Centre, discussing the importance of storytelling as a tool to communicate the rules and ways of life through words and illustration.
In addition, to celebrate National Aboriginal and Torres Strait Islander Children's Day on 4 August, some of our Early Learning Centre children also led the school in singing Heads, Shoulders, Knees and Toes in Kaurna language at assembly.
"It has been wonderful to watch our children engage with the various activities and we hope to expand and broaden our knowledge and understanding of our First Nation People," said Meredith.
For Aunty Daphney, working with St Peter's Woodlands on the school's ongoing reconciliation efforts has also been a rewarding experience.
"The work I do is a passion," she said. "And I adore sharing my passion and making a connection with the students."
"That's what reconciliation is all about."
"It's important for our children to know the history of Australia, and know that racism is out there, but it's not all as bad as it seems."
"I do this with an open and inclusive approach, and really just teach them that I'm Australian, I'm just like them."
---
St Peter's Woodlands is committed to building relationships with Aboriginal and Torres Strait Islander people that are built on mutual respect, trust and inclusiveness. We are committed to the active implementation of our Reconciliation Action Plan established in 2020.