If you were to ask a group of parents what's the one thing they'd like to see in their child's future there's no doubt a high proportion would say 'success'.
At her recent TED Talk, 'Grit: The power of passion and perseverance', Angela Lee Duckworth spoke to the topic of what contributes to making children successful.
A former seventh grade maths teacher in New York City public schools, Angela left the classroom to become a psychologist in a bid to further her knowledge on students' learning from a motivational and psychological perspective.
In her studies of students, military cadets, rookie teachers and sales people, her leading question was, 'Who is successful here and why?'
From her work, the one characteristic that emerged as a significant predictor of success wasn't social intelligence, good looks, physical health, IQ, family income or how safe children felt at school – the characteristic was 'grit'.
So what is grit?
In Angela's words, "Grit is passion and perseverance for very long-term goals. Grit is having stamina. Grit is sticking with your future, day in, day out, not just for the week, not just for the month, but for years, and working really hard to make that future a reality. Grit is living life like it's a marathon, not a sprint."
And, how do we create grit in kids?
Unfortunately, Angela didn't have the answer to this question, but discussed the best idea she has heard to date – it is called 'growth mindset'.
'Growth mindset' is an idea developed at Stanford University by Carol Dweck. It is the belief that the ability to learn is not fixed, and in fact it can change with your effort.
"Dr Dweck has shown that when kids read and learn about the brain and how it changes and grows in response to challenge, they're much more likely to persevere when they fail, because they don't believe that failure is a permanent condition," Angela told the Ted Talk audience.
How St Peter's Woodlands is creating 'gritty kids'
SPW students are encouraged not to shy away from taking risks, making mistakes or facing adversity. They're taught that some of the best learning comes from not getting it right the first time.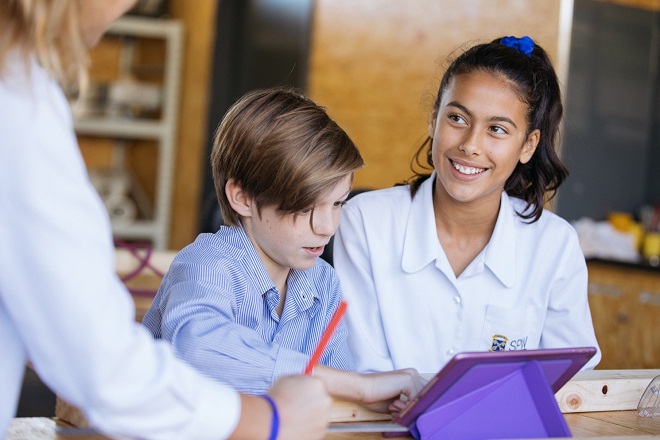 One of the SPW's values is 'courage' and is complimentary to the concept of 'grit'. Students are encouraged to think about what is right, to take risks and most importantly, to keep trying.
Furthermore, being an International Baccalaureate school, the curriculum drives students to be inquirers and thinkers. SPW encourages students to realise the importance of asking questions to create an inquisitive, continually growing mind.
Angela's full Ted Talk can be viewed here.