It's one of the most significant childhood milestones, met with a combination of pride and trepidation by parents and children alike. Yes, we're talking about the first day of school.
But what is the right age for children to start school and how will you know when your child is ready to go?
According to Gemma D'Angelo, Head of Early Learning at SPW, many parents worry unnecessarily about whether their child can read or write, when it's actually their social and emotional development that is key.
"The right time to start school is when children have the social and emotional maturity to meet the demands of a typical day at school," Gemma said.
"In South Australia, children can't start school until they are 5, but they don't legally have to be at school until they are 6. It gives parents and teachers a one-year window to make sure your child is really ready."
So, what does social and emotional maturity mean for a child starting school?
School is different from kindy and early learning, and there is a greater expectation for children to be able to interact and communicate well.
"The first thing we look for in school readiness is whether the child can separate well from their parents. We also want to see how well they cooperate and share, and whether they can listen and take instructions."
"On a really practical level we want them to have a level of self sufficiency, such as being able to put their jumper or sun hat on, or being able to peel a mandarin at lunchtime."
"Lastly we look at how well the child can communicate and regulate their emotions. Are they able to ask for help when they need it? Can they be still and attentive for short amounts of time?"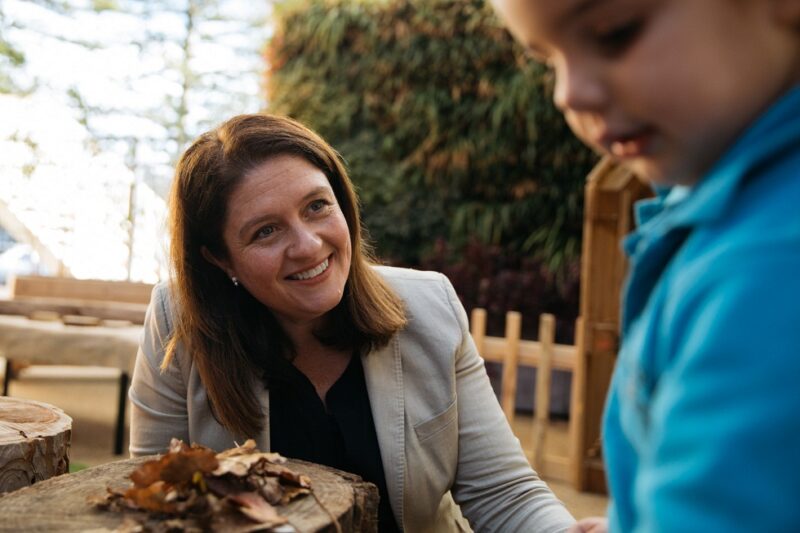 According to Gemma it's really important to remember that all children develop these skills at different times, and forcing a child to be ready for school is counter productive to their success.
"Just as children grow at different rates, their social and emotional development also varies. While many children will be ready for school just after their fifth birthday, some will benefit from having additional space and time to develop these fundamental skills."
"Kindy and early learning are much less formal environments where learning is play-based, so it's much better for children to spend a little more time there if they need to, rather than rush to school before they are ready."
"Once a child starts school it's very disruptive for them to repeat or consolidate a year, so it's much better to start school a little later to set your child up for success."
"Parents are always the best judge of whether their child is ready for school. Some are relieved when they discover they can wait until their child is 6 because they know they're not quite ready. What we do is help parents make an informed decision."
A seamless transition to school
Parents and teachers should be striving for a seamless transition for children starting school, regardless of whether they've been in early learning, kindy or childcare. At SPW there are both formal and informal methods of ensuring a successful transition.
All children and parents take part in multiple visits to meet the teachers and other children; and if the children are starting Foundation (Reception) from a different kindy or childcare, the SPW team, with the parent's consent, contact them to learn more about the children's strengths, likes and readiness for school.
Practical considerations are also taken into account, for example, children can come to school for 4 days a week for the first month, and the curriculum is lighter to ensure children have a really positive experience.
"We see transition as a continuous journey for the children. All of our ELC children, aged 2-4 years, will visit the wider facilities in the school, such as the library and ovals, so they get to feel comfortable in the wider school community.
"There is also a buddies programme where SPW Foundation (Reception) students team up with children in the ELC. It's great because the children are close in age, they play together at lunch time, and it creates a sense of community."
Gemma said parents and teachers really need to work in partnership to ensure a seamless transition.
"Parents are the first educators of their children and have a huge influence over their child's behaviour and learning. We work with parents and take a holistic approach to the welfare of the children.
"Children who feel safe, valued and cared for will thrive and learn, and it's those building blocks which set the children up for success."
What parents can do to prepare their children for school
Parents of toddlers can start to prepare their children for school in really practical ways. Here is Gemma's top 5 ideas:
Get your child to help with age appropriate activities around the house and kitchen. Peeling and preparing food, tidying up toys, and helping pack their bag for kindy or ELC are good examples.
Teach your child how to share and take turns. This can be with adults, siblings or friends.
Encourage children to dress themselves, mastering buttons and zips, even though it takes time and they may get it wrong.
React calmly to the invariable toddler tantrums and meltdowns. Help your child understand perspective and how to resolve issues calmly with words.
Equip your child with an understanding between choice and instruction. Yes, give your child choice about what fruit they want as a snack, but equally teach your child when they need to follow instructions, such as crossing the road safely.
---
St Peter's Woodlands Grammar School is a co-educational Anglican Early Learning and Primary School located in Glenelg, South Australia.
If you are interested in finding out more about enrolling your child for their Foundation year at SPW please contact our Enrolment Officer who will happily organise a tour for you to view the school.
Enrolment Enquries
Joanna Gray, Admissions and Marketing Officer
P: 08 7221 6217
M: 0411 488 575
E: [email protected]