Providing learning and laughter for children and older adults in the same setting at the same time
The heart-warming ABC documentary series 'Old People's Home for 4 Year Olds' captured the hearts and minds of Australians when it was released in 2019 — none more so than the community within St Peter's Woodlands' Early Learning Centre (ELC).
Inspired by the show, we decided to launch our own intergenerational program for the ELC, in partnership with Kapara Glenelg Residential Care Home and Annie Harvey, a wellbeing, mindfulness and stress management coach.
"After seeing all of those intergenerational programs on the ABC, we thought it would be amazing to run one in our own community," Virginia Files, Director of St Peter's Woodlands ELC said.
"We thought this program would be an easy way for the children to give back to the community, which is part of our school's value Service.
"Having the connection with Annie Harvey, and with Kapara being just around the corner, made it really viable to build an ongoing connection," she said.
Following a successful trial in Term Four last year, the program officially launched this month with great success.
Meaningful and authentic relationships
As part of the program, each week, St Peter's Woodlands' ELC students meet with six residents from Kapara to build meaningful intergenerational relationships, Virginia said.
"It's really about having meaningful, authentic relationships with older adults in our community.
"For both age groups, it's about experiencing the excitement that comes with communicating from one generation to another, getting good endorphins released in the body, making them laugh and feel good, and supporting their physical, mental health and social connection," she said.
According to Associate Professor Lyn Phillipson from the University of Wollongong, these days, it can be hard to form these connections when family members live interstate or overseas.
"Bringing the generations together actually does place older people in a position where they can see the hope, enthusiasm and wonder of children, and the children can also benefit from the wisdom older people can offer," she said.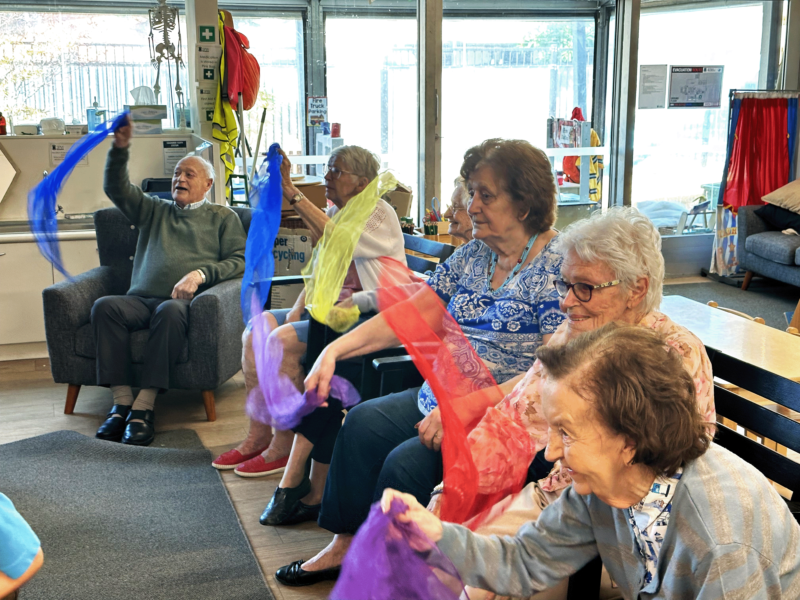 More than just fun and games
During the sessions, ELC students and Kapara residents participate in a range of activities, designed to enhance the physical and mental health, and the social skills of both generations.
These include the 'Move to Connect' program, Annie Harvey's 'Giggle Game', as well as singing songs, reading picture books, and other playful learning experiences. Virginia said the program has been a valuable learning experience for the children.
"Seeing and understanding that the residents at Kapara might not be able to move their bodies like they can helps our students to develop real empathy," she said.
"By teaching the residents how to play the Giggle Game and Move to Connect, it helps our students to demonstrate their leadership skills, build-up their self-esteem, and supports their language development.
"Honestly, it covers so many facets of their learning and development."
Aside from being a valuable learning opportunity, Virginia said all participants have enjoyed the experience, too.
"When the residents from Kapara arrived, the children were all sitting in a circle ready to greet them and get into the activities, at the end they were all up hugging them, chatting with them, they were really open and welcoming," she said.
"The children were like mini teachers, which created so much laughter and joy.
"They absolutely loved it; they could see how much the residents were getting into it.
"They all warmed to each other by the end…it's been really sweet to see," she said.
In the final session, held on Wednesday 29 March, the participants enjoyed playing with the various learning experiences offered in the ELC classroom, from painting to playdough to completing puzzles.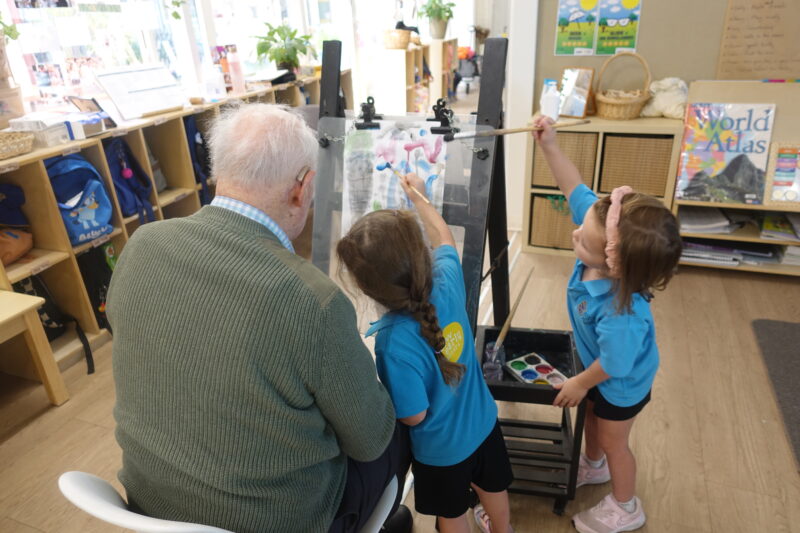 An 'extraordinary' experience
It appears that love for the program flows both ways.
Kapara's Lifestyle Coordinator, Michelle, said that the residents don't stop talking about their time at St Peter's Woodlands, and that their visits to our ELC are highlights of the week.
"There's unanimous support for the program — everyone wants it to grow, and be a part of it," Virginia said.
"Seeing the joy on everyone's faces — the children, the residents, the staff — it's so hard to describe the feeling…it just is really special.
"The joy, and the fun and laughter is just really extraordinary.
"We talk about being extraordinary at St Peter's Woodlands. This really was one of those extraordinary moments you just want to bottle up," she said.
To learn more about the rich and varied education on offer at St Peter's Woodlands, contact Jo Gray, St Peter's Woodlands Enrolments Manager.