At SPW, our care for your child extends beyond the school day.
With parents working more than ever, we've recently refurbished the SPW Out of School Hours Care (SPW OSHC) facilities and crafted a program to support your family before school, after school and during the school holidays.
We know learning and questions don't stop once the school bell rings, so we've created a beautiful, calm and inviting space for children. A space your child can explore his or her interests' in a safe and friendly environment – all the while providing you with convenience and peace of mind!
Our philosophy
We will nurture our students to be happy, knowledgeable and creative young people who care for others and make a positive difference in the world.
Our philosophy is guided by our core values at SPW: wonder, courage, respect and service.
To ensure we live and breathe our philosophy, SPW has employed a permanent Director for OSHC, led by SPW's Head of Teaching and Learning, Amanda Kelly.
"We've built this team to provide an outstanding leisure program within a safe, friendly and nurturing environment to ensure children develop a sense of belonging," says Amanda.
"Our program promotes curiosity, and embeds the inquiry approach to learning, giving children the opportunity to strengthen their love of learning.
"The African proverb, 'it takes a village to raise a child', could not be truer when it comes to OSHC.
"We truly value our partnerships with families and the wider school community and recognise the vital role they play in each child's development."
The SPW OSHC program has been built on the following five pillars:
We believe positive and supportive relationships are integral to the development and wellbeing of each child.
We believe the social and emotional development of each child is essential to becoming a valued citizen.
We believe children should have a life-long love of learning.
We believe in empowering the individual.
We believe in the value of 'connectedness' – to each other; the school; family; community and environment.
Never a dull moment at SPW OSHC
The historic Nutter Thomas Hall, home to SPW OSHC, is a large collaborative space with plenty of room for children to play games, relax with each other and to follow their interests and passions.
SPW parent, George Therrios, believes that with the range of education activities on offer, OSHC is more than just a child care service. "My daughter really enjoys her time at OSHC. We need to use the service due to our work commitments, however, it's evident the program is more than a child-minding service.
"The children are able to follow their interests, it's a safe place where they can build their self-esteem and develop a sense of belonging."
A key feature of SPW's refurbished OSHC is the amount of resources available to students.
"We have loads of resources for children of all ages to engage with," says Amanda.
"From card and board games to arts and crafts, sports and robotics – there's never a dull moment at OSHC!
"Outside we have a large lawn area for children to play sports, and we also have a kitchen space where children can get involved and help prepare snacks."
Children attending OSHC also take responsibility for caring for the program's pet frogs and the SPW chickens.
School holiday program
The school holiday program, open to children from both SPW and other schools, is packed with a variety of engaging, fun-filled activities, all with an educational foundation.
Excursions to Cleland Wildlife Park, an amazing race activity in the Botanic Gardens, ANZAC crafts and Easter cooking, a dance party and obstacle challenge were all activities planned by the OSHC Team for the Autumn School Holiday program.
You can view the latest Holiday Program here.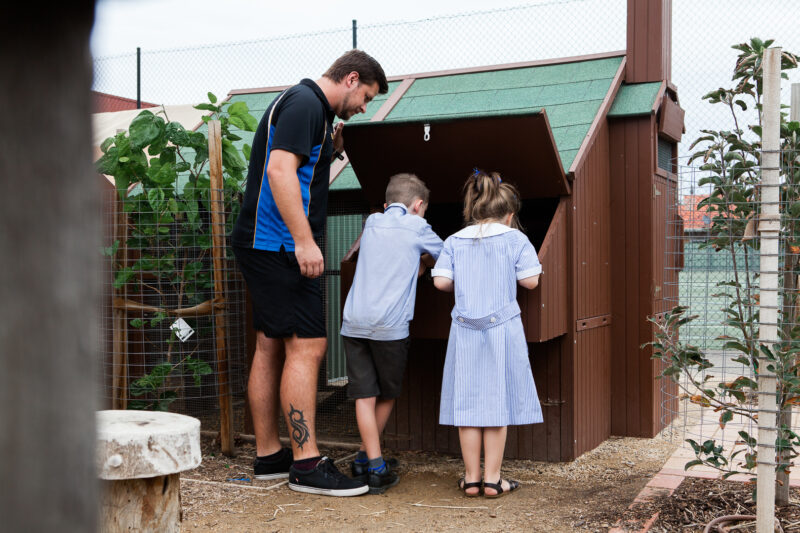 Come and See OSHC
If you think your family would benefit from attending the SPW OSHC program, we'd love you to Come and See OSHC!
Come and See OSHC Events
Tuesday 18 June – 3.15pm – 6.30pm
Thursday 20 June – 7.30am – 10.30am
Visiting the Centre provides a fantastic opportunity for both you and your child to see the space and learn how OSHC works. Pop in to take a look at our new space and learn more about our program. We'd love to see you there.
Alternatively arrange a suitable time to visit that works for you, contact us today.
Enrolling for OSHC
To enrol your child in the SPW OSHC program or make a booking, please use the My Family Lounge online booking and wait-list management service.
The basics
Before and after school hours care
The SPW OSHC program is located in the historic SPW Nutter Thomas Building.
Before school care runs from 7.00am to 8.15am.
After school care runs from 3.15pm to 6.30pm.
Permanent rate for before school care is $17.75 per session.
Casual rate for before school care is $23 per session.
Permanent rate for after school care is $29 per session.
Casual rate for after school care is $34 per session.
Holiday program
The holiday program runs from 7.30am to 6.00pm.
School Holiday program prices range from $56/day to $76/day, depending on the activities planned.
The OSHC Holiday Program caters for children from Reception to Year 7 and accepts children from both SPW and other schools.
SPW OSHC Service is a registered CCS Service therefore the Government Rebate applies. Registration required.
If you'd like more information about the SPW OSHC program, visit the SPW website, email [email protected] or call 8295 4317 (extension 5).