As educators, teaching children to read is far more than just a core function of our job – it's our passion.
Reading opens up opportunities in your child's life for education, employment and greater wellbeing. When your child learns to enjoy reading, they will develop a broader vocabulary, increase their general knowledge and develop a better understanding of other cultures.
Because of this, at SPW we've integrated peer reviewed research and scientific evidence into how we teach reading and spelling.
We take a structured literacy approach, focusing on 'The Big 5' of reading instruction: phonological awareness, phonics, fluency, vocabulary and comprehension, to set our students up for reading success.
At SPW we understand what leading researcher Louise Moates means when she says 'Teaching reading is rocket science'. Because of this we have focussed heavily on increasing teacher knowledge and expertise to bring our practise in to step with the convergence of scientific evidence in the teaching of reading. We have developed a clear scope and sequence from ELC to Year 6 that teaches children the code needed to become strong readers and spellers.
Teaching children in this way ensures reading and spelling can be differentiated to meet student need.
A SPW success story
At SPW, we have been administering the Year 1 Phonics Check since 2017, and are pleased to report positive results from our Year 1 children after our first year of structured synthetic phonics instruction in Reception.
We are also seeing upward trends in our Year 1, Year 2 and Year 3 spelling assessments. It is exciting to see such positive results after our first year.
Leading speech pathologist, Sarah Kennedy from Talk Speech Pathology has been working closely with SPW students, and has noticed improvements across the board.
"Coming into the school to work with a range of students, I've noticed that they consistently demonstrate a stronger knowledge base about the ways sounds and letters combine for reading and spelling," she said.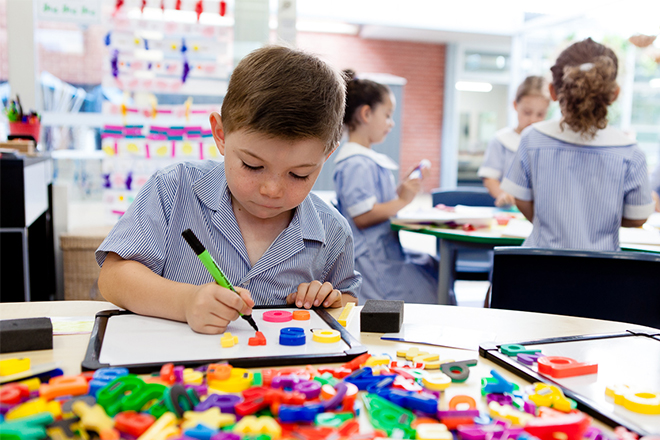 The SPW difference: early intervention
At SPW, we know early intervention is critical to student success, and because of this, we follow a 'Response to Intervention' model.
"We have tailored the standard Year 1 Phonics Check to assess what is explicitly taught in our Reception year," said Head of Learning Support at SPW, Tina Day.
"We then administer this check to our Year 1's in the first two weeks of the new school year. This allows teachers to analyse the results and tailor their teaching program to their students' individual needs and provide targeted classroom intervention where required."
The Check will be readministered in Term 3 to monitor student progress.
SPW has also developed progress monitoring assessments that align with our scope and sequence to provide teachers in Reception, Year 1 and Year 2 with 'live' data about individual student progress.
"This ensures students are retaining and applying what has previously been taught and practised. Teachers can then analyse results and can respond immediately if a skill or a concept hasn't been mastered," said Tina.
Finally, SPW has made significant investment in providing high quality decodable reading material for our students in Reception through to Year 4.
This means all students have access to reading material that directly supports what has been explicitly taught in class, providing them with a structured approach to reading practice.
Helping your child learn to read
As the most important educators in a child's life, parents play a vital role in teaching children to read.
To help our beginning readers, we've created a resource to support parents, which clearly explains how we learn to read with modelled examples of how to effectively support our children develop and master these skills at home.
After such strong results in just one year, with your support we're excited to continue our rollout of the Year 1 Phonics Check.
Following our passion, we're making sure all children experience the benefits of learning to read.
---
 To learn more about the Literacy program at SPW, please contact Learning Support Teacher, Jo Hirst or Head of Learning and Teaching, Amanda Kelly.