Dr Seuss' popular children's book, 'Oh The Places You'll Go!' is a favourite of Reception teachers and students at St Peter's Woodlands.
Full of pearls of wisdom, the book — which tells the tale of a young boy setting off into the world — is particularly relevant as your child transitions through important life stages, including starting school.
"Congratulations!
Today is your day
You're off to great places
You're off and away"
Whether your child is feeling slightly anxious about starting school or bursting with excitement, a smooth take off from Kindergarten or ELC and successful landing in Reception all comes down to planning and preparation.
To do this, St Peter's Woodlands offers an extraordinary program for children commencing their Reception journey: our 'Flying Start – Reception Transition Program'.
Preparing for take off
At St Peter's Woodlands, we know that children who have a positive start to school are more likely to feel comfortable, relaxed and ready to learn.
That's why we developed the 'Flying Start – Reception Transition Program'. It's been designed to help our youngest learners settle into school and find a sense of belonging within the school community.
About Flying Start Reception Transition Program
The program begins in June, the year before children start school. At this time families and children have the chance to meet our Head of Early Years, Mrs Sarah Noell, for an enrolment conversation and tour.
Then, during August and September, Mrs Sarah Noell contacts each child's Kindergarten or ELC to learn more about their development.
The first step for children in the transition process involves heading along to a 'Getting On Board' session with a small group of children. Together the children spend time in a Reception classroom listening to stories and playing. This experience is designed to be personal and provide extra care and attention, ensuring each child feels secure.
Two 'Taking Off' sessions follow, which are held in larger class groups in Reception classrooms. Children meet a Reception teacher, their fellow peers and enjoy a story and a craft activity.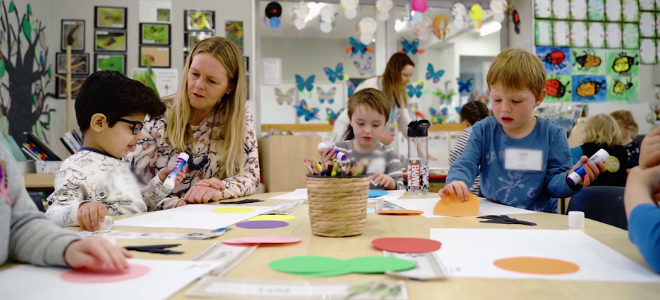 The 'Soaring' session is the final visit for children in our Reception transition program. During this session, the children meet their Reception teacher and classmates for the following year.
Each session runs for 60 minutes giving students the opportunity to explore the Reception classrooms and playgrounds. Parents also enjoy meeting one another, whilst enjoying a coffee together and touring the school.
Just before the school year begins in January, the Reception children and parents have the opportunity to meet with their child's teacher in a 'Getting to Know You' session to make a connection and build their relationship.
During this meeting, each child works with their teacher to complete various assessments and activities, which helps the teachers identify learning needs, and provide intervention support where required.
Helping your child soar
From day one in Reception, each child is supported to soar thanks to our caring and nurturing environment, focus on building foundational skills, and exceptional extra- and co-curricular offering.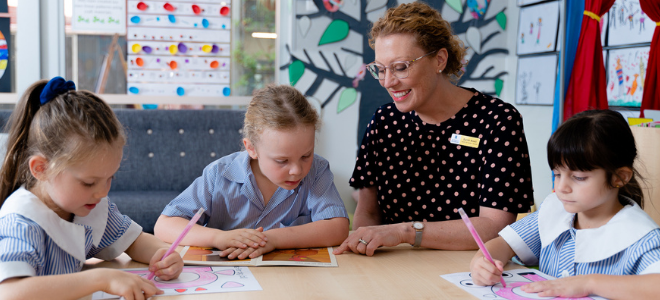 Afterall, research shows that early positive school experiences are important for a child's social and emotional wellbeing and academic achievement.
"Reception is a pivotal year in children's schooling to grasp the foundations of learning and develop a positive view of themselves as learners, friends and citizens of this world," said Principal of St Peter's Woodlands, Mrs Helen Finlay.
A caring and nurturing environment
"The importance of a caring environment where children feel safe and secure, both physically and mentally, is fundamental to creating meaningful relationships and a place for children to learn," said Mrs Helen Finlay.
In early 2020, St Peter's Woodlands' Reception classes were redeveloped, along with a new outdoor plaza facility.
The new classrooms are flexible to ensure all children can grow and thrive in their learning environments, and teachers can adapt the spaces to suit their student group
"At St Peter's Woodlands, our purpose-built Reception rooms cater for whole class learning, and feature break out spaces for small group work and chill out zones.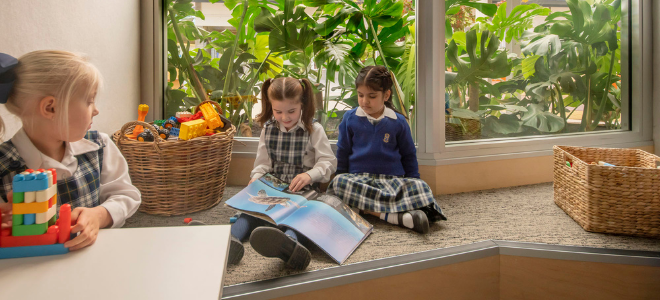 "Our teachers are able to create learning areas like Reading Nooks and Maker Spaces, based on the interests of their class."
Recognising the diversity of student learning needs at St Peter's Woodlands, we also introduced a specifically designed, sensory-friendly double-storey cubby into each Reception classroom.
"We understand that often children need time to recharge and regulate their bodies, so a breakout cubby space was designed for each room.
"It is a favourite place for many of our Reception children."
The mental wellbeing of Reception children is fostered through the award-winning Bounce Back program.
The Bounce Back program is the world's first Positive Education program, and teaches children social skills and strategies for building resilience, through engaging lessons, children's literature and practical resources.
Foundational building blocks
In Reception, we work hard to develop the foundational building blocks for each child — literacy, maths, social development, and wellbeing.
These skills are critical for your child as they continue their educational journey, and actively and successfully participate in the world.
In fact, research from the UK shows that children who are taught well in their first year of school go on to achieve better GCSE results in English and maths.
Another UK study, 'Bold Beginnings' also emphasised the significance of the teaching of the initial concepts of reading and numbers that takes place during Reception.
"Put simply, by the end of Reception, the ability to read, write and use numbers is fundamental.
"They are the building blocks for all other learning.
"Without firm foundations in these areas, a child's life chances can be severely restricted."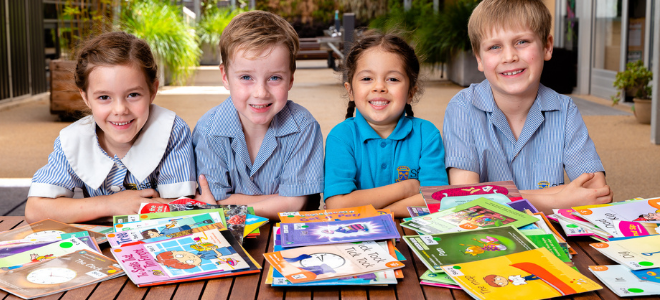 At St Peter's Woodlands, we achieve this through teaching the PYP curriculum based on curiosity and child led inquiry, and implementing evidence-based teacher practices and programs.
Specialist lessons and extra-curricular opportunities
From gymnastics to the annual school musical, a range of specialist lessons and extra-curricular options enhance learning opportunities for our Reception students at St Peter's Woodlands, and help them find their strengths and passion.
Specialist teaching staff take Reception students for lessons in Art, Music, Physical Education and Digital Technologies weekly. Students also attend the library each week to borrow books and be inspired by literature.
A child's learning, growth and confidence extends beyond the core subjects at St Peter's Woodlands too.
"The breadth of opportunities available is extraordinary, and we really encourage children to try new things, to strengthen their intellectual, physical, social and emotional capacities."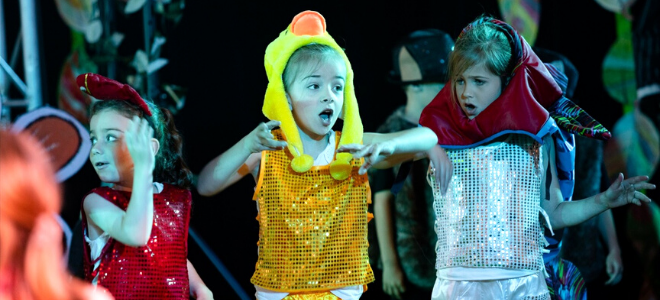 "Our Extra-Curricular programs at St Peter's Woodlands are designed to support children develop critical lifelong skills," said Mrs Helen Finlay.
"Netball, football, soccer and gymnastics are available for Reception children to experience with qualified sports instructors, as well as Glee Club and the School Musical.
"Finally, we embrace opportunities for children to perform in front of an audience through our weekly Chapel services, Assemblies, choirs and bands."
Getting on your way
In the wise words of Dr Seuss:
"You're off to Great Places!
Today is your day!
Your mountain is waiting,
So… get on your way!"
If you'd like to give your child the best start to primary school, we welcome you to book a personal tour to discover more about St Peter's Woodlands. Contact our Enrolments Manager, Jo Gray, to book your personal school tour today.