Lights! Camera! Action!
This year's showcase was themed around music from movies. We even had two giant Oscar awards in attendance!
We did two shows for the SPW community with the energy blowing the roof off a transformed Baddams Hall. We had over 200 students from Reception to Year 6 take part in a range of ensembles. The concert was brilliantly hosted by our School Captains, Jett and Bian who guided us through each song, detailing the song's origins plus any interesting facts.
The concert began with a huge rendition of 'Happy' from Despicable Me 2, featuring the combined choirs and accompanied by the SPW Band. This was followed by the band showcasing the talents of our instrumentalists.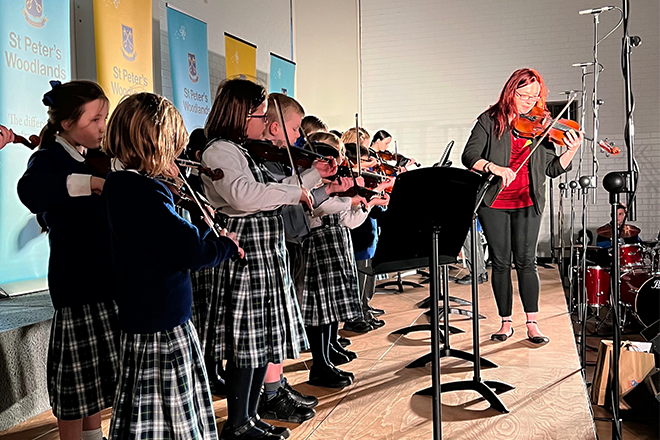 Next the string ensemble, featuring cello for the first time, played a very memorable version of 'Supercalifragilisticexpialidocious' and our keyboard ensemble impressed with their classical piece and amazing medley.
SPW is a singing school and the choirs did not disappoint! Junior Glee gave us a thoroughly entertaining 'Disney Friendship Medley' and the beautiful 'Together We Stand'. Chapel Choir as always sounded great and raised the roof with 'The Little Light' and finally Show Choir gave us the dramatic and thrilling 'James Bond Medley' and power balled 'Hold My Hand' from Top Gun Maverick.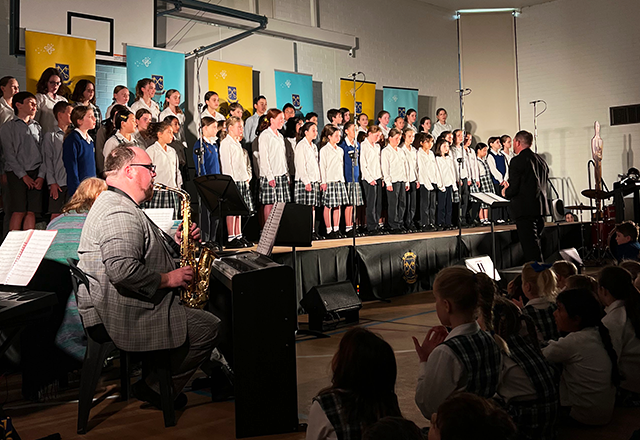 There was even a special guest duet by two familiar faces singing about a snowman and summer. The evening finished with everyone singing 'A Sky Full of Stars' from Sing 2. The energy and community spirit was electric and a great time was had by everyone. Congratulations to the talented young musicians of SPW!
---
Article by Mark Delaine, Head of The Arts.